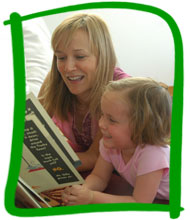 I started my daughter's BookTree subscription when she was four. For five years I read to her, or she read to me, beautiful picture books that grew more complex over the years. I could never have picked out such a range of books, even at the library: every month there were books about science, history, math, famous people, and other cultures, as well as poetry, fiction, and alphabet books. All the books were chosen with an eye for good art, as well — even after my daughter started reading chapter books she went to BookTree to look at the illustrations. BookTree books were never sexist or racist, cutesy, moralistic, or tied to TV or movies. They often came from smaller presses, and when I loved a book I would see if there were books by that author at the library or in bookstores. I'm thrilled that my daughter had such a wonderful experience with high-quality literature. Thank you for five great years!

— Elizabeth Freeman (Professor of English, University of California, Davis)

Thank you so much for a fantastic service! We have absolutely LOVED each month's books for nearly 6 years, looking forward to the adventures inside each new tote. Through BookTree, we have read (and reread!) hundreds of wonderful books that we probably would have never discovered ourselves. The curated mix has been a perfect balance of informational, historical, and entertaining. We have learned so much, often discussing the stories, their lessons and meaning long after we closed the book. BookTree has helped facilitate my boys' deep love of reading, which they will now carry throughout their lives.

— Suzanne Coppola

When I plop down on the sofa with a picture book, magic happens. Three small boys stop the chaos and are drawn like magnets to the sofa. They curl up quietly around me, cuddly and with rapt attention taking in every word. It's amazing every single time. I would never have stumbled into all these books myself at the appropriate times. Thank you for putting these beautiful books and moments into my home!

— Jenni Dirksen

Here's how BookTree works.

— Kelly Bryson-Pearce

Imagine a discriminating book fairy who delivers the world's best children's literature to your fingertips! Each BookTree bag feels like a magical, personalized gift selected especially for me and each of my children. With the anticipation and delight that comes from discovering the newest gift of books each month, BookTree has become one of the more rewarding and lovely parts of daily life for our family. The books have been satisfying, memorable, and worth every penny.

— Donna Bargetto Mohr

Without BookTree, I don't think we would have discovered the hundreds of high-quality children's books that aren't necessarily best sellers, but are genuine gems. BookTree is particularly good at finding books that are educational, entertaining, empowering, and inspiring to both girls and boys. My 4-year-old daughter insists on hearing both her books and those of her nearly 2-year-old brother. My children look forward to the new bags each month, and we inevitably fall in love with several of the books. BookTree offers a tremendous service!

— Rebecca Eisenberg

It is in great part because of BookTree that our 2nd-grader is such an avid reader. Thank you for helping to spark her love of reading!

— Lisa Pruitt (Professor of Engineering, University of California, Berkeley)

We have enjoyed over ten years of fantastic reading, including all kinds of subjects, tales from around the world, and illustration styles we have never seen before. My 11-year-old now reads at a high school level, and my 9-year-old (who now wants to be an author when she grows up) reads at an 8th grade level. Thank you so much for your great program!

— Natasha Devaud

We have hundreds of books at home, but our daughter asks me to read the BookTree books every single night. We don't find these special selections at the library or bookstores. I am so grateful to read quality books with my child at such an important age for language and social-emotional development. I definitely recommend BookTree!

— Masako Sugano

BookTree has been a magnificent way to bring new, enlightening, educational, and inspiring books to our home. The vast majority of the books we hadn't known about and would not have picked up independently. We are grateful for the impact of BookTree on both of our children and the delight of opening each new tote of books!

— Amanda Charney

Every month we have more books to add to our favorites, whether to share with the classroom, purchase for gifts, or seek out at the library later on. BookTree has inspired our son to make art, cook, and tell stories on car rides, and has brought lots of inspiration to our family's daily life!

— Sylvia Yuan

Your curation of content is fantastic. BookTree has meaningfully contributed to our son's love of books and reading over our many years with you. And it's been a primary avenue for me to enjoy reading with him, because your content is so engaging!

— Kimberly Sanner

Thank you for six incredible years of BookTree! Your program is phenomenal, and we are grateful to have benefitted from the interesting and diverse books that you've curated. BookTree has brought such joy to our family and has helped our kids get really excited about reading!

— Maxine & Justin Raphael

Of all the activities and programs we have relied on to assist our daughter with her interests, BookTree has been among the most useful and productive. Our daughter is a huge fan of books thanks to your service!

— Keith Hwang

Thank you for being such a special part of our children's lives, and for helping them become avid readers. We have loved having BookTree as part of their childhood — what a wonderful service!

— Elizabeth & Jeff Spaulding

Our daughter is now a budding writer and passionate story teller, and following in her footsteps, our son experiences stories deeply and empathetically and is mastering retelling them with great detail and enthusiasm. Big thanks to BookTree for nourishing our imaginations month after month! Your impact will carry on in our kids' love for books that you've helped us build and nurture.

— Mirela Cukovic

My son eagerly looks forward to the new black bag of books each month, and we have so much fun reading them together. I would never have discovered these wonderful stories on my own. We love the convenience of picking up the tote at his preschool, and our nightly routine of choosing books from the tote. Thank you for an extraordinary and invaluable service!

— Kate Gerwe

Your book selections are so fantastic. BookTree has made us better parents, our family stronger, and our son smarter and happier.

— Mickey Gupta

We love BookTree and are so thankful for the past 7 years of amazing, diverse, educational, worldly, and funny books. Our children love to read, we love to read with them, and we attribute much of this passion to your program. We have built an incredible home collection based on your thoughtful and detailed curation.

— Julie & David Supan

I would recommend BookTree to every parent. In a world where even trying to choose a bottled salad dressing can seem overwhelming, BookTree's book choices contribute to something much more important: your child's brain and social-emotional development. We have loved this wonderful opportunity to introduce ten new books a month to our child.

— Dov Pollack

Although we live around the corner from a public library, we could not have chosen a better and more varied selection on our own. BookTree helped us discover that my son has a true love of history (who knew?!), and that my daughter's personal favorites continue to be the Cuban folktale of Martina the Beautiful Cockroach and the Russian tale of the Littlest Matryoshka. BookTree has accomplished what I had hoped for and more. Both kids are avid readers and genuinely enjoy reading. Thank you for enriching all of us, parents included!

— Kyla Chin

Thank you so much for the fantastic service during the past five years! Our daughter's current reading level is a great testament to the reading habits that BookTree helps develop.

— Steven Chan

Our son cherishes his tote of BookTree books so much! He calls it his "beautiful black bag of books"!

— Kiki Gunn

Although we have walls full of children's books in our home, our daughters love the novelty and diversity of topics and styles provided by BookTree. The books are rarely ones that we already have or would have discovered on our own. BookTree has made reading time our favorite time of the day. Our eldest daughter, who started BookTree at age 3, is now a reader who chooses to read to herself whenever she has free time!

— Mary Wheeler, Ph.D.

Thank you for many years of excellent books that are so well curated and feel so good to hold and to touch!

— John Kelly

I love this book service! It introduces us to books we may not have picked up at the library but fall in love with. It is wonderful to get out of our routine and discover new books that click with my children!

— Vanessa Neumann

Our entire family loves BookTree. Our kids can't get enough of the interesting and varied selections, and because we receive exciting new books each month, my husband and I enjoy reading to our children even more. Aside from the incredible savings of not having to purchase the books, the convenience is fantastic. We love the service so much we order a double bag every month. BookTree is the greatest gift you can give your kids. We couldn't live without it now!

— Summer Tompkins Walker

Thank you so much for opening my children's eyes to so many different worlds and helping them love books as much as I do.

— Kelly Dodge

I want to let you know how much I appreciate the diverse range of books you thoughtfully choose for the totes. This month the books started meaningful conversations about living with a disability, economic hardship and diversity, our environment, and working hard towards achieving a goal.

— Kendra Gilberd

We treasure the many years of wonderful book selections you have provided our family. Our children will always remember the joy of opening up that zippered bag and wading through the pile of books, anxious to select one and read, read, read. I cherish those moments!

— Laureen Schiller

My son jumps with glee every time we pick up our new BookTree bag. Thank you for doing what you do.

— Beth Dye

I cannot tell you how grateful we are to have been able to enjoy your wonderful books for so many years. You have a gift in choosing winners -- we could never have found such a rich selection on our own. Both of our children are avid readers, and I believe that being exposed to such a variety of high quality books contributed to their love of literature.

— Leslie Bacho

We have two subscriptions, one for my five-year-old son and one for my two-year-old daughter. My children are so excited to receive their new books each month, and I am excited to watch the children's love of reading grow. Every night we sit down together and read at least two books. I could not be happier with our BookTree books!

— Todd David

We have subscribed for nearly two years, and each month my four-year-old son eagerly awaits his BookTree bag. I really appreciate the impressive quality, the variety, and how the books become more challenging as my son grows. He enjoys the wonderful and imaginative picture books, works of non-fiction, and poetry. I often find my son in his room "reading" to himself!

— Sarah Kennedy

We've been using BookTree since our son was one year old, and we're now in our third year. I want my child to have the benefit of books that are imaginative, beautifully illustrated, and inspire him to love reading. But as a working mom, it's tough to find the time to search for the best books - the books that BookTree consistently provides. BookTree is a lifesaver!

— Alisa Groocock

My daughter gets so excited to open the tote and go through the books one by one. Towards the end of the month, she goes back for one last reading of some of her favorites. I love that we always have a bag of really beautiful books at all times! Thank you!

— Suzanne Kavert

We read 2-3 books every night before bedtime. It's so much fun for our kids to experience so many different kinds of books, many of which we might not have discovered otherwise. And as parents, we love how the books have been so carefully screened for both quality and age-appropriateness. Two thumbs up for BookTree from this family!

— Loraine Migliori

Thank you for doing what you do! Both my kids love to read, and four years of BookTree were a big part of making that happen!

— Michelle Chador

My son is becoming an avid reader, and I think that's in large part due to the variety and quality of age-appropriate books he gets through Booktree. You provide a great service.

— Amy Lincoln

Thank you so much for introducing us to so many wonderful books, many of which I don't see on the shelves of local book stores!

— Susan Whitecotton

We really appreciate how BookTree is helping to spark a lifelong love of reading!

— Tonya Redfield

We love BookTree and how it brings such enthusiasm for reading. Our children have made lasting memories from some truly wonderful books!

— Kristen Slowe

I very much admire BookTree's mission of having the books grow with our child. It is a precious thing you guys are doing!

— Diana Du

BookTree is hands down our best expense every month (after food, school, etc. :). Our son loves it!! And we love it too. He's learning so much and becoming more and more curious about the world. Thank you very much for this incredible service!

— Hannah Willson

BookTree has been an amazing experience for us! Our son loves rating the books, and BookTree gets us reading books that I'd normally never pick. Thank you so much!!

— Keely Grand

Your program has helped our daughter become a confident reader. We love the variety and fun that BookTree consistently provides.

— LesAnn LeClaire

I can't thank you enough for providing us with such amazing books. Our whole family has benefited from your book choices, and we are so grateful for the service that you provide.

— Susan Rakness

What a fantastic program! We have discovered so many great books that we would have otherwise missed.

— Kathy Hötzel

We receive BookTree totes for three of our children, and they all love it! We would never have picked out such a diverse range of books on our own. It has become a family ritual to read a book from our totes every night. We have no problem getting our children ready for bed because they know that means we will bring out the BookTree totes. Thank you for making it so easy for us to share such wonderful literature with our children!

— Chelseaa Bush

It is very interesting to see which books my daughter gravitates to over the month. We are truly grateful for these books, because without BookTree I think we would continue to read books that are not sufficiently challenging. The great assortment makes for wonderful dialogue and a fun bedtime routine!

— Dana Young