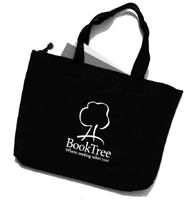 How does the free trial work?
If your household has never received a tote of books from BookTree, then you are eligible for a one-month FREE TRIAL. This offer allows you to receive one tote of books at no charge during the next service delivery to your school, business or public location. You and your family have approximately one month to read and reread the books, returning them by the deadline specified in the schedule. If you do not wish to continue the subscription after the free trial, then you simply cancel your subscription any time before the book return deadline. You will receive the schedule for picking-up and returning your tote during sign up. See Service Agreement for complete membership details.
If you have received a tote of books from BookTree before, sign in to manage or reactivate your subscription.